Mobile mast protester who will not be silenced
//freepage.twoday.net/stories/2887892/
--------
Irish Post - How one Irish woman took on the mobile phone giants
From: Eileen O'Connor
Date: Thu, 2 Nov 2006 11:48:47 -0000
"Top O' The Morning To Ya"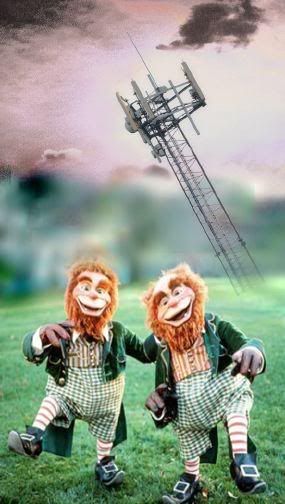 This weeks Irish Post – National Weekly News Paper
//www.irishpost.co.uk
Irish Post – Exclusive: how one Irish woman took on the mobile phone giants.
Make sure you buy the Irish post this week; it's a National News paper, Reporter Brendan Farrell has done an excellent exclusive double page article on me and the phone mast campaign including photographs, leading from the enclosed attached photograph of me on the front page "thought I'd enclosed the photograph of me used in the news paper just in case you get me mixed up with the leprachauns". Page 6 and 7 is titled "Mobile mast protester who will not be silenced" it's brilliant and should create much needed awareness; it is out today for one week, although I can't find it on the internet yet.
They have called me an Irish woman which is almost true as most people who originate from Liverpool are fondly know as Paddy's who can swim.
I am proud to be called an Irish woman, after all I am married into an Irish Family and my own Grandparents have roots from Ireland, I've got that Irish blood running through my veins.
Remember, remember the fifth of November, 2003 'Bonfire night' when the Wishaw mast mysteriously disappeared?
The article talks about the campaign to keep the felled Wishaw mast away after discovering the cancer cluster in the tiny hamlet of Wishaw. The final sentence in the new article says "Does Eileen really know who pulled the mast down in Wishaw? "Do you believe in Leprachauns?" she smiles.
Thankfully we still don't know who is responsible, we often wonder about the mystery warrior; could the enclosed images of leprachauns 'please see above and below' be photographic evidence??????
Also attached a photograph taken when the Irish flag was flying on the CCTV camera pole in Wishaw this was a celebration of Paddy's day, the camera is still in place today, keeping an eye on the empty phone mast site.
Jesus, Mary and Joseph - these cheeky Leprachauns, Just won't go away.
The blessing of God and Mary on you.
Eileen O'Connor
//freepage.twoday.net/search?q=Wishaw
--------
Dear Eileen: This is FABULOUS!!!!
I suspect "leprachauns" are really "angels-in-disguise!!!"
Many persons enjoy "wearing the green" and drinking green beer on St. Patrick's Day. I even treasure a small pin that until now, had forgotten about. It is a cute leprachaun. Maybe the pin should be worn "as a symbol" -- green being symbolic of healthier EMF/EMR environment and the leprachaun, an angel in-cognito.....???
The "Irish connection" also came up in another way. Jill Ungar, Research Editor for the Science and Public Policy Institute site
//www.sppionline.org
referred to me as "A Whirling Dervish" in a recent email.
I guess I do "run-around-in-circles" a lot so the description is appropos (smiles).....
I have a local newspaper article with pictures of me using a gaussmeter by our two high voltage powerlines (about 7 years ago). Unfortunately the article did not stimulate any interest or lead to any sort of help (Minnesota) in regard to "waging the war" in spite of the reporter's willingness to convey my concerns particularly re childhood Leukaemia.
Jill is "a wee bit (alot) Irish too.....!!!" We know "more than a "little Irish" is frequently expressed by many of our EMF/EMR friends too!!!
I don't drink beer but would love to participate in a toast to better health for all at a celebration once funding is obtained for Prof. Olle Johansson (we KNOW he is "Irish" as well) -- maybe "green wine?" -- when the Charity Children With Leukaemia joins forces with Olle to allow for "proper white blood count studies," so "prudent avoidance issues" will once again be publicly announced???!!!!!
Take care "my Irish friend" and "keep thinking GREEN too" -- the "green" we need to reveal "secrets in red" (money for proper blood studies Prof. Olle Johansson is waiting to do)........ Joanne
Joanne C. Mueller Guinea Pigs R Us
731 - 123rd Avenue N.W. Minneapolis, Minnesota 55448-2127 USA Phone: 763-755-6114 Email: jcmpelican@aol.com (11-2-06)
"All the knowledge I possess everyone else can acquire. But my heart is all my own...." Goethe
"Life's most persistent and urgent question is: What are you doing for others?..." Dr. Martin Luther King, Jr.
"Prof. Olle Johansson (Karolinska Institute/Sweden) is the face of compassionate caring and understanding, sincerity, honesty and dedication re helping persons affected by EMF/EMR-related toxicity .....!!!" Joanne C. Mueller 10-31-06